John Brooks limps off with a leg injury as United States struggles to draw with Venezuela in tune-up for World Cup qualifiers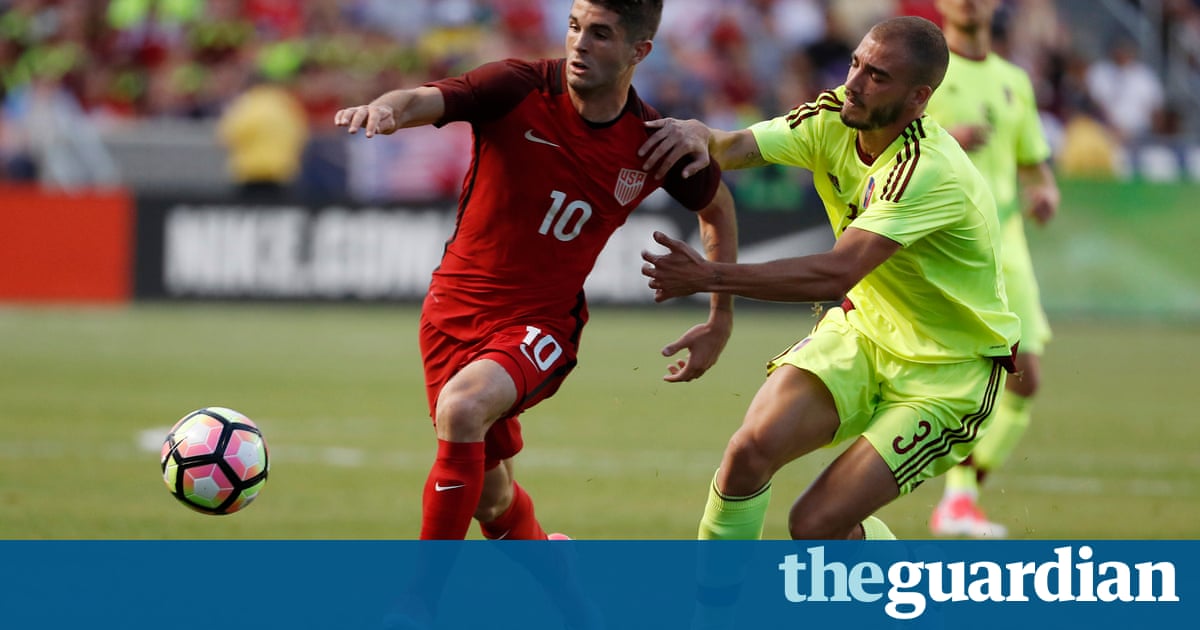 Christian Pulisic scored early in the second half, defender John Brooks limped off with a leg injury and the United States struggled at the start of a 1-1 exhibition tie against Venezuela on Saturday night, a warmup for a pair of World Cup qualifiers next week.
Jose Manuel Velazquez put Venezuela ahead in the 29th minute, but the 18-year-old Pulisic tied it in the 61st with his fifth goal in 15 international appearances.
Brooks, who missed a pair of March qualifiers because of injuries, hobbled off in the 51st minute, rubbing the side of his right leg, and was replaced six minutes later by Matt Hedges.
The US plays Trinidad and Tobago on Thursday at Commerce City, Colorado, then is at Mexico three days later. The US is fourth in the final round of qualifying in North and Central America and the Caribbean with four points, ahead of Honduras on goal difference. Mexico leads with 10, followed by Costa Rica with seven and Panama with five. Trinidad is last with three.
The top three nations qualify for next years World Cup in Russia, and the No. 4 nation advances to a playoff against Asias fifth-place team.
Rio Tinto Stadium is about 4,500 feet above sea level, preparation for matches in Colorado, at about 5,200 feet altitude, and Azteca at 7,820 feet.
The US started close to a first-choice lineup, missing only forward Jozy Altidore, who reported late to training camp because of a family commitment. But the center back pairing of Brooks and Geoff Cameron, starting together for the first time since October, was not sharp.
Velazquez scored his third international goal after Junior Morenos corner kick was headed by Pulisic. The ball stayed in the penalty area. Clint Dempsey headed the ball again in a clearance attempt, but it went wide to Moreno.
Moreno headed the ball back into the penalty area to Velazquez, who moved between Brooks and Fabian Johnson, stuck out his right foot at the top of the 6-yard box and stabbed the ball past goalkeeper Tim Howard.
Venezuelanearly doubled the lead five minutes later. Moreno sent a corner kick across the penalty area and Rubert Quijada had an open diving header at the 6. Howard dived to push the ball off a post, and the ball bounced across the goalmouth, where it was cleared by Michael Bradley.
Pulisic tied the score after taking a pass from Johnson at the top of the penalty area. He took two touches with his right foot to create space from Christian Santos and beat goalkeeper Jose Contreras with a 16-yard left-footed shot.
DeAndre Yedlin was at right back and Jorge Villafana at left back. Bradley was in defensive midfield and Pulisic in central midfield, flanked by Johnson on the right and Darlington Nagbe on the left. Dempsey and Bobby Wood headed the attack.
The US had rainbow numbers on its red jerseys as part of an initiative with You Can Play Project, which promotes equality without regard for sexual orientation and/or gender identity. The jerseys will be auctioned online for charity.
Venezuelais last in South American qualifying with six points in 14 games and has been eliminated. About two hours after the end of the friendly, the US andVenezuelamet in the quarterfinals of the Under-20 World Cup at Jeonju, South Korea.
Read more: https://www.theguardian.com/football/2017/jun/04/pulisic-scores-as-united-states-draw-1-1-with-venezuela-in-friendly